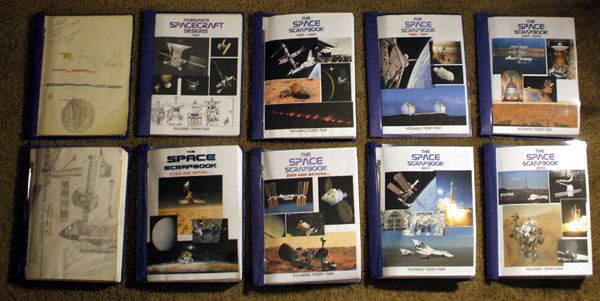 Photos of the Day...
Almost two years ago, I posted an entry
about several albums I created
featuring space articles that I found in the
Los Angeles Times
and other newspapers since I was in grade school. Just thought I'd post new pics showing the album
(which is actually more of a scrapbook...but let's just refer to it as an album here)
I created for 2012. Considering the fact that last year was a very action-packed one for manned and unmanned spaceflight
[the retired space shuttle orbiters finally being sent to their museum homes, SpaceX's Dragon making its debut flight to the International Space Station (ISS) in the spring, several astronomical events such as last June's Venus transit taking place, and of course, the Curiosity rover's triumphant landing on Mars last August]
, I almost ran out of space
(no pun intended)
in the binder because of how thick the album grew. On the plus side though, I don't need to worry about this again till 2015...which is when I'll work on the next
(and presumably final) Space Scrapbook
. What's happening that year, you ask? The
Dawn
spacecraft arrives at dwarf planet Ceres,
New Horizons
makes its long-awaited flyby of dwarf planet Pluto and the first two-man crew is scheduled to launch to the ISS
and spend a full year
aboard the orbital outpost. Fun times, indeed.