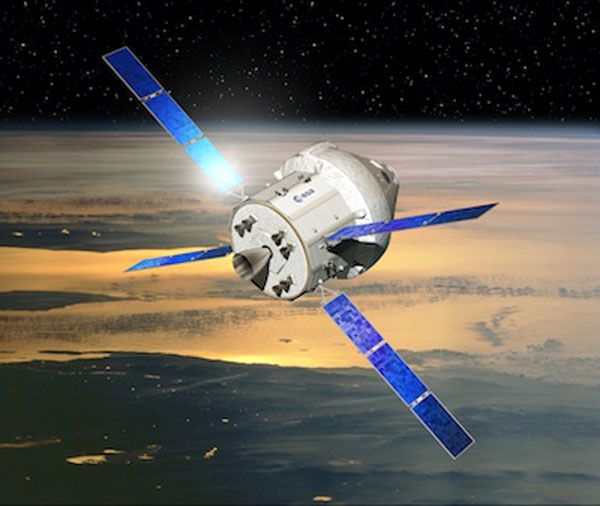 ESA
Happy Thanksgiving Day, everyone!!!
Just thought I'd post this interesting art concept showing an
Orion Multi-Purpose Crew Vehicle
(MPCV)
with a European Space Agency
(ESA)
-built Service Module
(SM)
attached it. First reported by
NASASpaceFlight
and
Spaceflight Now
earlier this week, providing the SM for Orion would be ESA's way of participating in NASA's deep space exploration program right after the International Space Station
(ISS)
is decommissioned no earlier than 2020. ESA is set to discontinue its Automated Transfer Vehicle
(ATV)
, which has flown cargo to the ISS
since 2008,
after the fifth and last ATV
(the Georges Lemaître)
lifts off in early 2014. Providing the SM would also be ESA's way of paying for the remainder of its partnership in the ISS program; the ATV was Europe's form of providing support to the orbiting laboratory without paying cash upfront to NASA and the Russian Federal Space Agency.
If approved by NASA, the first European SM will fly with Orion atop the
Space Launch System
(SLS)
during its initial unmanned sojourn to lunar orbit in late 2017. There are no additional details as to whether ESA will provide an SM for SLS' second launch beyond Earth orbit four years later...in a journey that would take a 4-person crew back to the Moon in 2021.