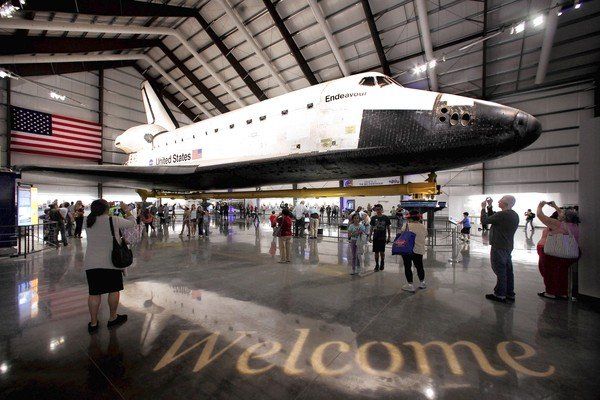 Los Angeles Times
/ Mel Melcon
Now Open for Business...
****
Shuttle Endeavour Exhibit Opens Tuesday at California Science Center (Press Release - October 29)
NASA's now-retired space shuttle
Endeavour
, which wowed millions during its Tour of California Sept. 21 and during its overland journey through the streets of Los Angeles and Inglewood Oct. 12-14, goes on public display at the Samuel Oschin Pavilion at the California Science Center in Los Angeles starting Oct. 30. Following a grand opening ceremony scheduled for 9:30 a.m. Tuesday, the Endeavour exhibit will open to the public about 10:30 a.m.
A companion
SpaceFest
will run concurrent with the grand opening of the Endeavour exhibit and run for six days through Nov. 4 at the center's nearby Wallis Annenberg building.
NASA will present over three dozen exhibits, displays, and educational demonstrations honoring aeronautics and space exploration past, present, and future. Visitors to SpaceFest will be able to learn about current NASA research missions, future space travel, and NASA involvement in enhancing aeronautics. The SpaceFest will also provide an opportunity for guests to meet and hear current and former astronauts speak about their experiences.
The exhibits will be open from Tuesday through Friday from 10 a.m. through 3 p.m., and on the weekend from 10 a.m. to 5 p.m.
The California Science Center is located at 700 Exposition Park Drive in Exposition Park, Exposition Boulevard and Figueroa Street just south of downtown Los Angeles, adjacent to the Los Angeles Memorial Coliseum. The Samuel Oschin Pavilion housing Endeavour is immediately west of the center's main building adjacent to the south lawn area. The Annenberg building is located on Kinsey Drive northeast of the center's main buildings, east of the park's rose garden.
Eventually, Endeavour will be displayed at the science center in vertical position, attached to two solid rocket booster replicas and its giant external fuel tank as it would have been prior to launches from NASA's Kennedy Space Center.
Endeavour was NASA's fifth and final space shuttle to be built. Construction began on Sept. 28, 1987 and it rolled out of the assembly plant in Palmdale, Calif. in April 1991. It was named after a ship chartered to traverse the South Pacific in 1768 and captained by 18th century explorer James Cook.
Shuttle Endeavour flew 25 times, traveling almost 123 million miles and accumulating 299 days in space. Like shuttles
Discovery
,
Enterprise
and
Atlantis
, Endeavour's next mission will commemorate past achievements in space and educate and inspire future generations of explorers and engineers for decades to come.
Source:
Dryden Flight Research Center
****