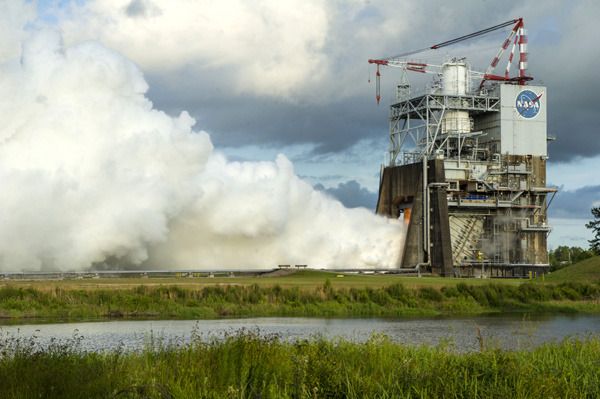 NASA
Steamy Summer Begins for SLS with RS-25 Test (Press Release - May 28)
A billowing plume of steam signals a successful 450-second test of the RS-25 rocket engine May 28 at NASA's Stennis Space Center near Bay St. Louis, Mississippi. The hotfire test was conducted on the historic A-1 Test Stand where
Apollo
Program rocket stages and Space Shuttle Program main engines also were tested. RS-25 engines tested on the stand will power the core stage of NASA's new rocket, the
Space Launch System
(SLS)
, which is being developed to carry humans deeper into space than ever before.
The heavy-lift SLS will be more powerful than any current rocket and will be the centerpiece of the nation's next era of space exploration, carrying humans to an asteroid and eventually to Mars. Four RS-25 engines will power the SLS vehicle at launch, firing simultaneously to generate more than 1.6 million pounds of thrust. RS-25 engines are modified Space Shuttle Main Engines, which powered 135 successful low-Earth orbit missions.
One of the objectives being evaluated in this test is the new engine controller, or "brain." The RS-25 is unique among many engines in that it automatically runs through its cycles and programs. The controller monitors the engine conditions and communicates the performance needs. The performance specifications, such as what percentage of thrust is needed and when, are programmed into the controller before the engines are fired. For example, if the engine is required to cycle up to 90 percent thrust, the controller monitors the fuel mixture ratio and regulates the thrust accordingly. It is essential that the controller communicates clearly with the engine; the SLS will be bigger than previous rockets and fly unprecedented missions, and its engines will have to perform in new ways.
Tests at Stennis will ensure the new controller and engine are in sync and can deliver the required performance to meet the SLS requirements. NASA engineers conducted an initial RS-25 engine test on the A-1 stand Jan. 9. Testing then was put on hold for scheduled work on the Stennis facility high-pressure industrial water system that provides the tens of thousands of gallons of water needed to cool the stand during an engine test. RS-25 testing now is set to continue through the summer.
Source:
NASA.Gov
****