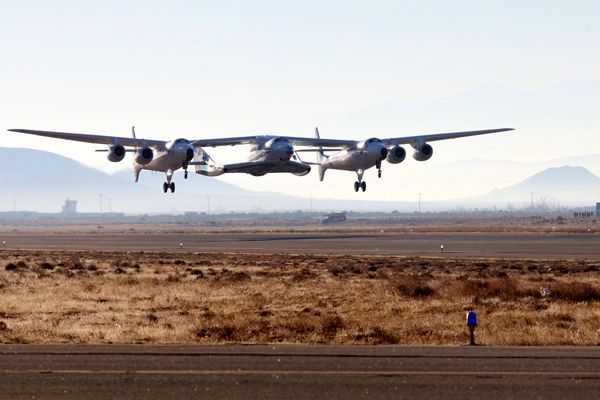 Virgin Galactic
A little over a year
after she conducted
her first glide test,
the
VSS Unity
successfully landed at the Mojave Air & Sport Port in the California desert after completing her seventh solo flight yesterday.
SpaceShipTwo
(SS2)
moves one step closer to performing
a rocket-powered demonstration once more
...with Unity having simulated a powered flight by carrying water ballast that mimicked the weight and positioning of RocketMotorTwo if it were attached to the spacecraft. Also, upon release from her mothership
White Knight II
from an altitude of 50,000 feet during the test, SS2 immediately made a sharp descent, accelerating to Mach 0.9...which is around the maximum airspeed the vehicle could attain without igniting her hybrid rocket engine!
And in another preparation for VSS Unity's eventual flight into suborbital space, the thermal protection system
(TPS)
was fully applied to the craft's outer surface prior to yesterday's test. The TPS prevents heat loads generated by air friction during rocket-powered ascent and supersonic re-entry from causing damage to the vehicle. The TPS is visible as the protective silvered film that covers the white flaps on Unity's "feather system" in the last two photos posted below.
If all goes well with her test flights in 2018, we may well see VSS Unity ignite her rocket engine thousands of feet in the air before the end of this year. Let's cross our fingers.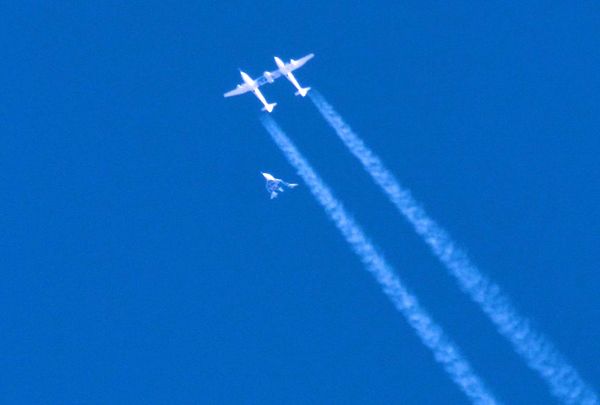 Virgin Galactic
Virgin Galactic
Virgin Galactic