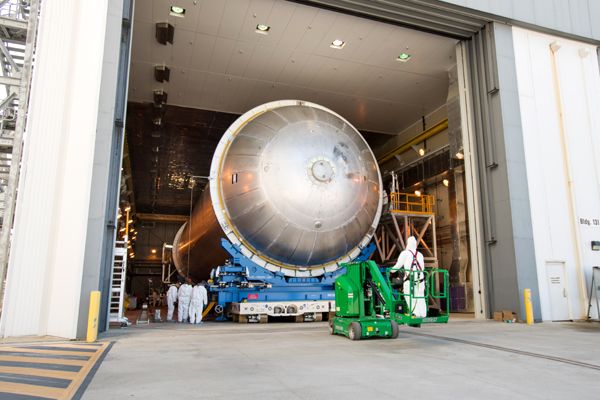 NASA / Michoud / Jude Guidry
SLS Liquid Hydrogen Tank Readied to be Primed for Thermal Protection (News Release)
The liquid hydrogen tank for NASA's deep-space rocket, the
Space Launch System
, makes a move for its next step in processing. Technicians at the agency's rocket factory, the Michoud Assembly Facility in New Orleans, place the tank into Cell P to be primed before its thermal protection systems application. The hardware requires protection due to extreme temperatures it will face during launch.
The liquid hydrogen tank measures more than 130 feet tall, comprises almost two-thirds of the core stage and holds 537,000 gallons of liquid hydrogen cooled to minus 423 degrees Fahrenheit. Propellant will flow from the tank to four RS-25 engines that will power the massive rocket on its first integrated flight with the
Orion
spacecraft:
Exploration Mission-1
.
Source:
NASA.Gov