NASA / Kim Shiflett
Two days ago,
a barge carrying the
last of three core boosters
that will comprise the
Delta IV Heavy
rocket used on
Exploration Flight Test (EFT)-1
arrived at Port Canaveral in Florida. Also transported aboard the barge were the second stage motor that will help send the
Orion
spacecraft 3,600 miles above the Earth during its maiden voyage and the adapter that will connect Orion to the Delta IV for EFT-1. With all of the components for this flight now at Kennedy Space Center and the launch site at Cape Canaveral Air Force Station, EFT-1 is on-track for
its December launch
that will hopefully bring NASA's human spaceflight program back into gear
(the various space station cargo missions flown by SpaceX and Orbital Sciences over the last two years notwithstanding)
.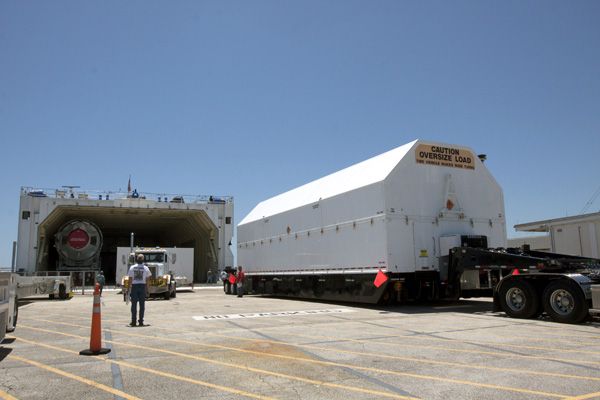 NASA / Kim Shiflett