YESTERDAY,
British entrepreneur Sir Richard Branson, who owns
Virgin Atlantic
and the recently-created
Virgin Galactic
, unveiled in New York City the mock-up of
SpaceShipTwo
(SS2)
...which will be a longer version of the
SpaceShipOne
vehicle that flew into space in
October of 2004
. SS2 will ferry eight people
(two pilots and six passengers)
into suborbital space. Of course, unlike the $300 to $400 plane ticket that you would have to spend going to, say, the Big Apple, you would have to dish out
$200,000
to reserve a seat on SS2. Now let's see— On one hand a person could probably spend that dough on a decent-size house somewhere here in Cali
(or a 2006 Ferrari F430 or an '06 Lamborghini Gallardo)
, and on the other hand, he or she could join the likes of
Paris Hilton
and soar nearly 70 miles above Earth. Overlooking the Hilton part
(Note to Paris: Don't try being the first person to have nookie in outer space)
, I'd choose the latter.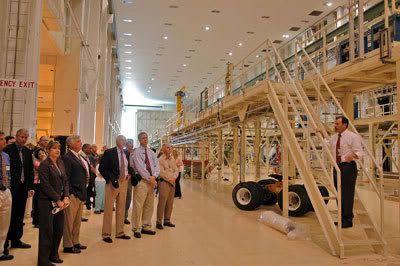 On the government side of space travel,
NASA officials on Tuesday re-opened the high bay on the western side of the Operations and Checkout Building
(O&C)
at Florida's Kennedy Space Center
(KSC)
. What's so significant about this, you ask? Well, the high bay was the site where the
Apollo
spacecraft were assembled and tested in the late 1960's/early 70's...and will now be the area where Lockheed Martin conducts final assembly on the
Orion
spacecraft before launch. And yesterday, the first component for the
Ares I-1
flight test vehicle
(the component being the aft skirt belonging to the first stage solid rocket booster)
, slated to lift off in April of 2009, was placed in the Assembly and Refurbishment Facility at KSC
(shown in the picture below)
. Indeed, right now is a very exciting time to be a space enthusiast...and not a
"cynical young adult"
. Pretty sad.