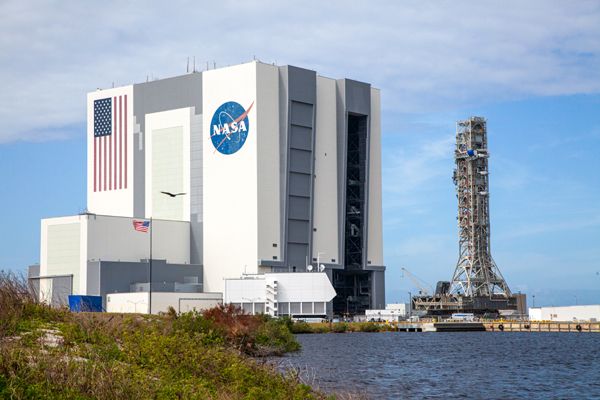 NASA / Ben Smegelsky
Mobile Launcher Returns to Vehicle Assembly Building (News Release - December 20)
On Dec. 19 and 20, 2019, NASA's mobile launcher, carried atop the crawler-transporter 2, trekked toward the Vehicle Assembly Building
(VAB)
at the agency's Kennedy Space Center in Florida. It arrived at the iconic facility – traveling nearly four miles – on Dec. 20, after spending months at Launch Pad 39B undergoing final validation and verification testing. Standing 380 feet tall, the mobile launcher will be used to assemble, process and launch the
Space Launch System
(SLS)
and
Orion
spacecraft for
Artemis
missions to the Moon.
The mobile launcher will remain inside the VAB until the
Artemis I
stack – the Orion spacecraft atop the SLS rocket – is ready to return to the pad for the "wet dress rehearsal" for launch. During this rehearsal, the rocket will roll out to the pad to be completely fueled and drained ahead of that first integrated launch of SLS and Orion.
Source:
NASA.Gov