Photo courtesy of ThePanamaCanal -
Twitter.com
Just thought I'd share
these pics of space shuttle fuel tank
ET-94
as it passed through the Panama Canal on its way to Southern California earlier today. Departing from NASA's Michoud Assembly Facility in Louisiana on April 12, ET-94 started its transit of the Central American waterway yesterday...and spent the last two days traversing 48 miles of isthmus as it headed from the Atlantic to the Pacific Ocean to begin the last leg of its journey to Los Angeles.
Photo courtesy of ThePanamaCanal -
Twitter.com
ET-94 is scheduled to arrive at Marina del Rey in L.A. County on May 19, and will parade through the streets of west Los Angeles as it heads to the California Science Center on May 21. It will hopefully be in 2019 when the public sees the external tank mated to the orbiter
Endeavour
and
her twin Solid Rocket Boosters
in launch position...once the Samuel Oschin Air and Space Center
(where the shuttle stack will be displayed)
opens that year. Stay tuned.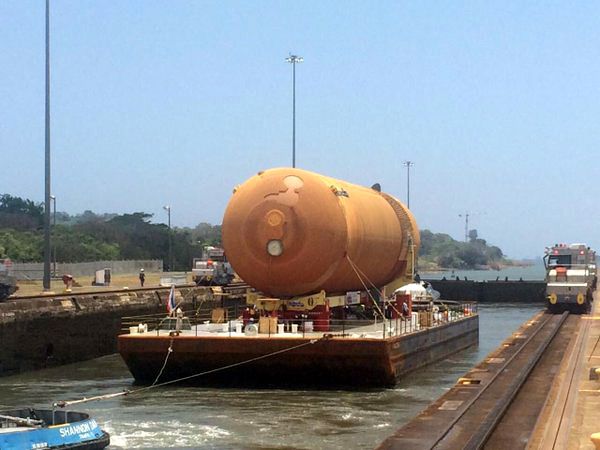 Photo courtesy of ThePanamaCanal -
Twitter.com
Photo courtesy of ThePanamaCanal -
Twitter.com
Photo courtesy of ThePanamaCanal -
Twitter.com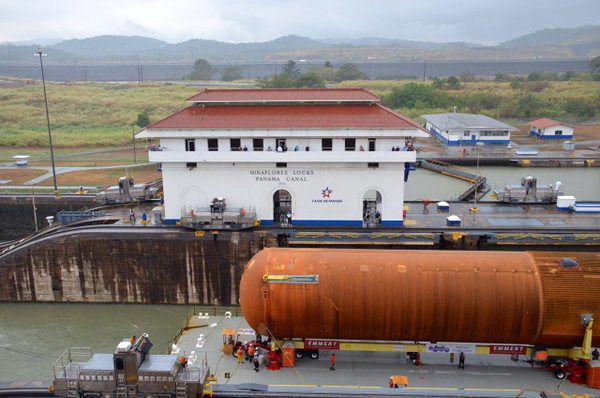 Photo courtesy of ThePanamaCanal -
Twitter.com