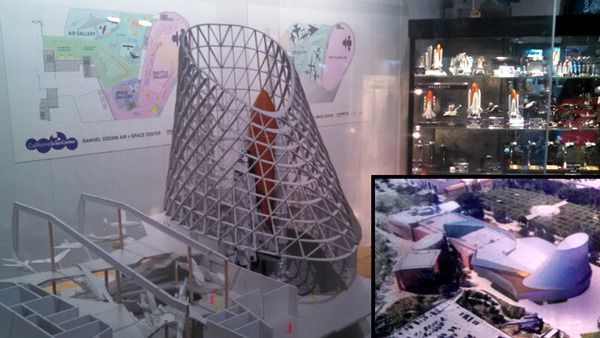 Earlier today,
I drove down to the California Science Center
(CSC)
in Los Angeles to visit space shuttle
Endeavour
once more
(plus, I watched a documentary called Humpback Whales 3D at the museum's IMAX theater)
. I didn't take any new photos of the retired orbiter since I already have a whole bunch that's posted
on this page,
but I
did
take some images of a cool concept model that shows how Endeavour's final home, the Samuel Oschin Air and Space Center, will look when it hopefully opens around three years from now. By the way, tomorrow marks three years since Endeavour first departed from a United Airlines hangar at Los Angeles International Airport to begin her much-celebrated street parade towards the CSC, while Wednesday
(October 14)
, marks three years since the shuttle made her way up a ramp into the Samuel Oschin Pavilion, Endeavour's temporary home, at the downtown L.A. museum. Can't wait to see Endeavour in her vertical, launch-like configuration in 2018! That'll be a sight to see.