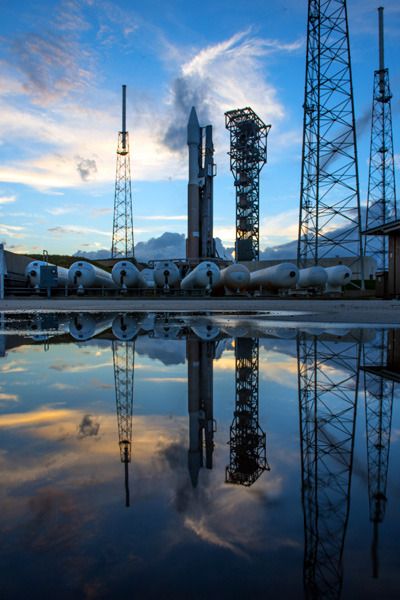 United Launch Alliance
ULA Atlas V Rocket With Cygnus Spacecraft at the Launch Pad (Press Release)
A United Launch Alliance
Atlas V
rocket with Orbital ATK's
Cygnus
cargo spacecraft on top stands at the launch pad at Space Launch Complex 41, Cape Canaveral Air Force Station, Florida on Dec. 3, 2015. Launch of Cygnus on the
CRS-4
resupply mission to the International Space Station is scheduled for 5:55 p.m. EST on Dec. 3, and the weather forecast is 60 percent favorable. A launch today will result in Cygnus arriving at the space station on Sunday, Dec. 6. NASA crew members Kjell Lindgren and Scott Kelly will use the station's
Canadarm2
robotic arm to reach out and capture Cygnus.
Cygnus will deliver samples and equipment to the station for research investigations in the many science disciplines aboard the orbiting multi-disciplinary laboratory. Research equipment includes the Space Automated Bioproduct Lab
(SABL)
, a single locker-sized facility that will enable a wide variety of fundamental, applied and commercial life sciences research, as well as K-16 education-based investigations. CRS-4 will also carry the Packed Bed Reactor Experiment
(PBRE)
, an investigation studying the behavior of gases and liquids when they flow simultaneously through a column filled with fixed porous media. Another investigation launching aboard CRS-4 is the Burning and Suppression of Solids – Milliken
(BASS-M)
investigation, which examines the extinction characteristics of a variety of flame retardant textiles in microgravity when exposed to a controlled flame.
Source:
NASA.Gov