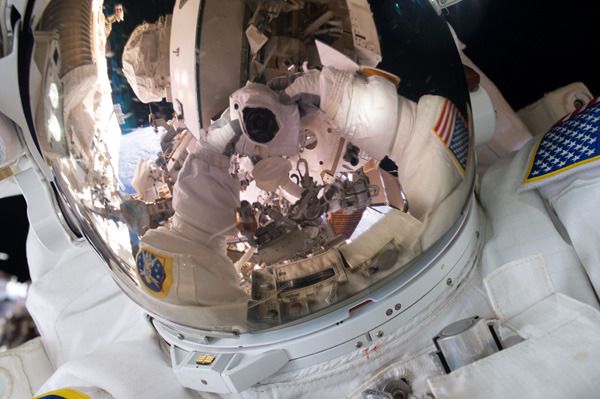 NASA
Spacewalk Selfie (Press Release)
Expedition 45
Commander Scott Kelly took this photograph during a spacewalk on Oct. 28, 2015. Sharing the image
on social media,
Kelly wrote, "
#SpaceWalkSelfie
Back on the grid! Great first spacewalk yesterday. Now on to the next one next week.
#YearInSpace
"
This was the first spacewalk for both Kelly and Flight Engineer Kjell Lindgren; the two will venture outside the International Space Station for the second time on Friday, Nov. 6. The two spacewalks were scheduled around milestones in space. Today, Oct. 29, Kelly becomes the U.S. astronaut who has lived in space the longest during a single U.S. spaceflight, and on Monday, Nov. 2, the crew celebrates the 15th year of a continuous human presence in space aboard the station.
During the 7-hour and 16-minute spacewalk, Kelly and Lindgren applied a thermal cover on the
Alpha Magnetic Spectrometer
; applied grease to a number of components in one of the latching ends of the
Canadarm2
robotic arm; and began work to rig power and data system cables for the future installation of a docking port to the station that will be used for the arrival of the Boeing
Starliner CST-100
and SpaceX
Crew Dragon
spacecraft.
Source:
NASA.Gov