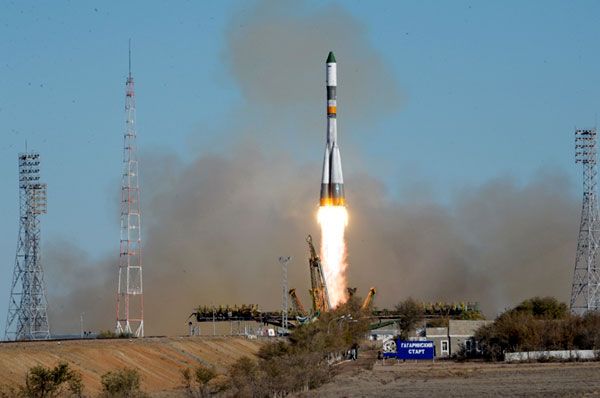 RSC Energia
SOYUZ RETURNS TO FLIGHT...
At 3:11 AM, Pacific Daylight Time today, a
Soyuz-U
rocket carrying an unmanned
Progress
spacecraft bound for the International Space Station
(ISS)
launched from Baikonur Cosmodrome in Kazakhstan. The launch was highly anticipated; this flight was coming on the heels of an August 24 third stage failure that prevented a previous
Soyuz
vehicle from sending the
Progress M-12M
cargo ship into low-Earth orbit. If the latest spacecraft, a
Progress M-13M
, hadn't succeeded in reaching orbit as well, then next month's launch of three ISS crew members would have been jeopardized...with the ISS at risk of being de-crewed for the first time since November of 2000.
On November 14, a
Soyuz TMA-22
spacecraft carrying Anton Shkaplerov, Anatoly Ivanishin and Dan Burbank, a NASA flight engineer, will lift off from Kazakhstan onboard a
Soyuz-FG
rocket. It won't be till December 23, however, that the ISS crew will be back to its full capacity of six. Oleg Kononenko, NASA flight engineer Donald Pettit and European Space Agency astronaut Andre Kupiers will launch onboard a
Soyuz TMA-03M
vehicle to the ISS on December 21...and dock with the orbiting outpost two days later.