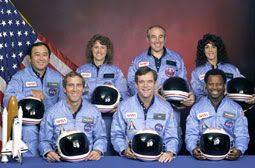 25 YEARS AGO TODAY...
The 7 astronauts of space shuttle
Challenger
lost their lives 73 seconds into flight on a cold January day. 44 years ago yesterday, the 3 astronauts of
Apollo 1
perished in a horrific fire during a ground launch rehearsal at Cape Canaveral, Florida. This Tuesday, it will be 8 years since the crew of space shuttle
Columbia
was lost during re-entry into Earth's atmosphere over Texas. May all these folks rest in peace. Hopefully, space shuttle
Discovery
will be launched as scheduled on February 24—and commence what will
(hopefully once more)
be a safe and successful conclusion to the space shuttle program
(the flights of Endeavour and Atlantis will follow that of Discovery...in April and June, respectively)
. This particular era of American human spaceflight, which will have lasted a little over 30 years, deserves an upbeat and memorable ending. It would obviously be a tribute to the 17 men and women who sacrificed their lives in the name of exploration. Not to sound clichéd or anything...it's the ultimate truth.