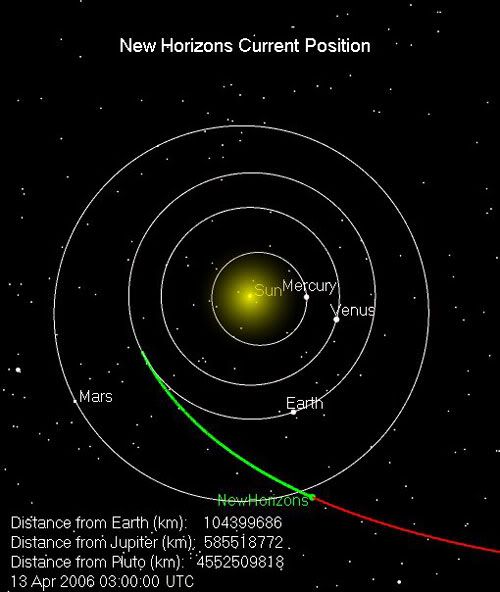 ABOVE: The green line marks the path traveled by the New Horizons spacecraft as of
8:00 PM, Pacific Standard Time, on April 12, 2006. It is 64,884,826 miles from Earth.
Click
here
to view the official webpage showing where New Horizons is in space.
NEW HORIZONS Update...
As of right now, the Pluto-bound
New Horizons
spacecraft is flying past Mars' orbit...being at a current distance of 65 million miles from Earth and speeding its way towards an encounter with Jupiter on February 28 of next year. All but one of
Horizons'
seven instruments have now been checked out and will begin making observations within a few months
[two instruments, the Student Dust Counter (built by the University of Colorado) and the Solar Wind At Pluto (SWAP) device, have already made "first light" observations]
. The final instrument to be checked out, the LORRI
(LOng Range Reconnaissance Imager)
camera, will not open its lens cover and be tested till later this Fall...since the instrument is extremely sensitive to light, and mission engineers don't wanna risk damaging it if the camera was accidentally pointed at the Sun. In terms of the Jupiter flyby in 2007, the planned observation list for the giant planet will be finalized by October, 2006.
New Horizons
has already made three trajectory correction maneuvers
(TCMs)
to fine-tune its flight path to Jupiter and Pluto...two thruster burns on January 28 and 30, respectively, and the third one on March 9.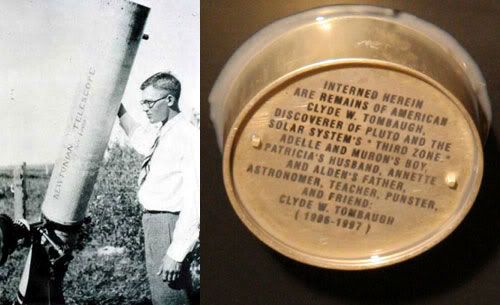 In terms of mementos that
New Horizons
is carrying onboard during its journey out of the solar system, it bears a canister holding the ashes of Pluto discoverer Clyde Tombaugh
(shown above)
, a piece of material from the experimental
SpaceShipOne
vehicle and a Florida coin commemmorating the U.S. space program
(both shown below)
.
Today also marks the 25th anniversary of the very first space shuttle launch. Hail
Columbia
!