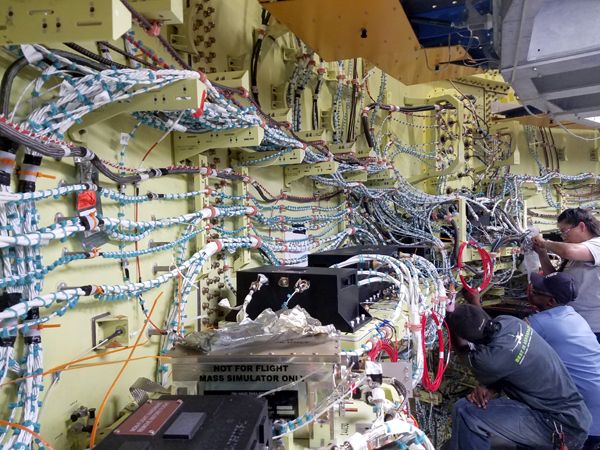 NASA / Eric Bordelon
Space Launch System Intertank Completes Functional Testing (News Release)
The intertank that will be flown on
Exploration Mission-1
as part of NASA's new rocket, the
Space Launch System
, has completed its avionics functional testing, at the Michoud Assembly Center in New Orleans. The avionics, shown here inside the intertank structure, guide the vehicle and direct its power during flight. The intertank houses critical electronics that "talk to" the flight computers in the forward skirt. The intertank, forward skirt, two colossal fuel tanks and the engine section make up the massive core stage of the
SLS
rocket. The avionics units on the core stage work with the rocket's flight software to perform various functions during the first eight minutes of flight.
Now that the intertank and forward skirt have passed avionics testing, they are ready to be mechanically joined and tested to verify they can successfully work together. To prepare for the first mission, engineers from Boeing, the prime contractor from Huntsville, Alabama, building the SLS core stage, are currently checking out the avionics systems for the entire rocket at the systems integration laboratory at NASA's Marshall Space Flight Center in Huntsville. They are verifying that the core stage avionics can use the flight software to operate and communicate with all the parts of the rocket as well as to
Orion
and to ground control computers.
Source:
NASA.Gov