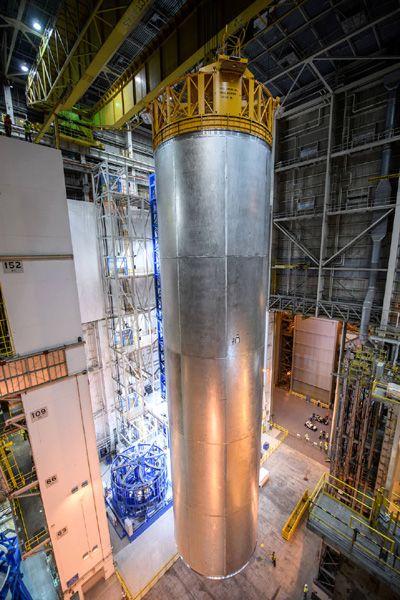 NASA / Michoud / Eric Bordelon
NASA Completes Welding on SLS Fuel Tank Test Article (Press Release)
A qualification test article for the liquid hydrogen tank on NASA's new rocket, the
Space Launch System
, is lifted off the Vertical Assembly Center after final welding at Michoud Assembly Facility in New Orleans. This giant tank isn't destined for space, but it will play a critical role in ensuring the safety of future explorers. The liquid hydrogen qualification article closely replicates flight hardware and was built using identical processing procedures. SLS will have the largest cryogenic fuel tanks ever used on a rocket.
The liquid hydrogen tank – along with a liquid oxygen tank – are part of the SLS core stage. The core stage is made up of the engine section, liquid hydrogen tank, intertank, liquid oxygen tank and forward skirt. As four qualification articles of the core stage hardware are manufactured, they will be shipped on the
Pegasus
barge from Michoud to NASA's Marshall Space Flight Center in Huntsville, Alabama, for structural loads testing.
Now that welding is finished, the liquid hydrogen tank hardware, standing at more than 130 feet tall, will be outfitted with sensors to record important data. It will be tested in a new, twin-tower test stand currently under construction for the tank at the Marshall Center. Structural loads testing ensures that these huge structures can withstand the incredible stresses of launch. When completed, SLS will have the power and payload capacity needed to carry crew and cargo on exploration missions to deep space, including Mars.
Source:
NASA.Gov