JAXA
Successful Deployment of DIWATA-1, First Microsatellite developed by the Republic of the Philippines, from ISS Kibo (Press Release)
(JAXA's first success of 50 kg-class microsatellite deployment)
The Japan Aerospace Exploration Agency
(JAXA)
, Tohoku University, Hokkaido University, the Department of Science and Technology
(DOST)
of the Republic of the Philippines, and the University of the Philippines Diliman, successfully deployed
DIWATA-1
, the first Philippines microsatellite. This was also the first success for JAXA to deploy a 50 kg-class microsatellite from the ISS Japanese Experiment Module
Kibo
.
DIWATA-1 is a microsatellite in the 50 kg-class jointly developed by DOST, the University of the Philippines Diliman, Tohoku University, and Hokkaido University. It was launched from Florida, the United States, on March 23, 2016
(Japan Standard Time, all dates and times in this release are JST)
and deployed from Kibo at 8:45 p.m. on April 27th.
Both Japan and the Philippines are surrounded by the ocean, hence satellite technology is imperative for our countries' prosperity. The development and manufacture of the DIWATA-1, the first satellite developed by the Philippines, was led by young engineers dispatched by the Philippines' DOST with Tohoku and Hokkaido Universities. JAXA was in charge of its launch and deployment into orbit. These four parties have successfully cooperated and contributed to each other for this epoch-making mission in the history of the Philippines' space development, and accordingly we achieved intimate cooperative relations between Japan and the Philippines.
With this first success of deploying a 50 kg-class microsatellite, JAXA enhanced the deployment capacity in addition to that of the CubeSat-class satellite. We also plan to increase the simultaneous deployment capacity of the CubeSat-class satellites from the current 6U to 12U, then 18U, thus we expect more and more expansion of microsatellites use and operation in the Asian region and beyond, like this example of DIWATA-1, and through collaboration between overseas agencies and JAXA and Japanese universities.
DIWATA-1
DIWATA-1 development took about one year and the Republic of the Philippines was in charge of the development costs. The satellite is equipped with imaging device of four different magnifications including a fish-eye lens camera, and a telescope with a ground resolution of three meters. It is expected to be utilized for providing remote sensing information to solve social issues in the Philippines by observing meteorological disasters such as typhoons and localized heavy rains, and monitoring agriculture, fishery, forestry and the environment. Deserving special mention is the onboard liquid crystal spectrum camera, which is a renovated version of the one aboard the
RISING-2
satellite launched in 2014 led by Hokkaido and Tohoku Universities. It is capable of taking images at 590 spectral bands, as many as that of cameras aboard big major satellites, thus it can break space use of the next generation with low costs and high precision.
CubeSat
CubeSat is a satellite with a cube of 10 cm x 10 cm x 10 cm as 1U, or its combination. According to the height, a CubeSat can be 2U
(20 cm in height)
or 3U
(30 cm in height)
. Currently, JAXA's deployment system can deploy six CubeSat
(6U)
simultaneously.
Source:
Japan Aerospace Exploration Agency
****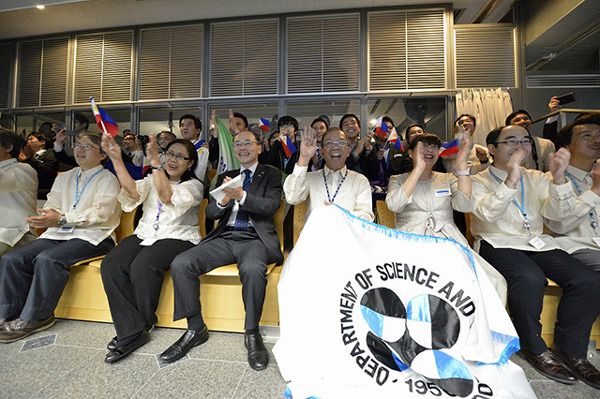 JAXA