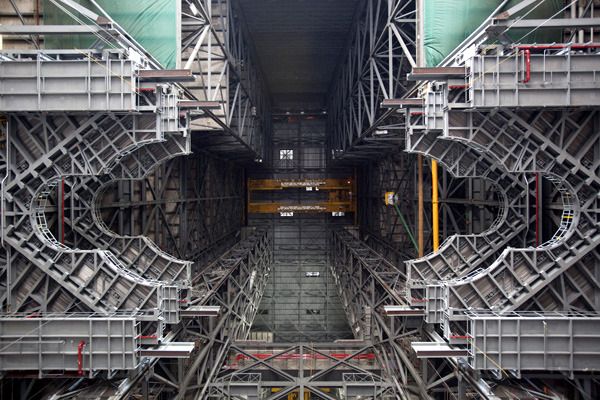 NASA / Dimitri Gerondidakis
Preparing the Vehicle Assembly Building for NASA's Next Rocket (Press Release)
A view from below in High Bay 3 inside the Vehicle Assembly Building at NASA's Kennedy Space Center in Florida, shows three work platforms installed for NASA's
Space Launch System
(SLS)
rocket. The lower platforms are the K-level work platforms. Above them are the J-level work platforms. A crane is lowering the second half of the J-level platforms for installation about 112 feet above the floor, or nearly 11 stories high.
The newly installed platform will complete the second of 10 levels of work platforms that will surround and provide access to the SLS rocket and
Orion
spacecraft for
Exploration Mission 1
. The Ground Systems Development and Operations Program is overseeing upgrades and modifications to VAB High Bay 3, including installation of the new work platforms, to prepare for NASA's journey to Mars.
Source:
NASA.Gov