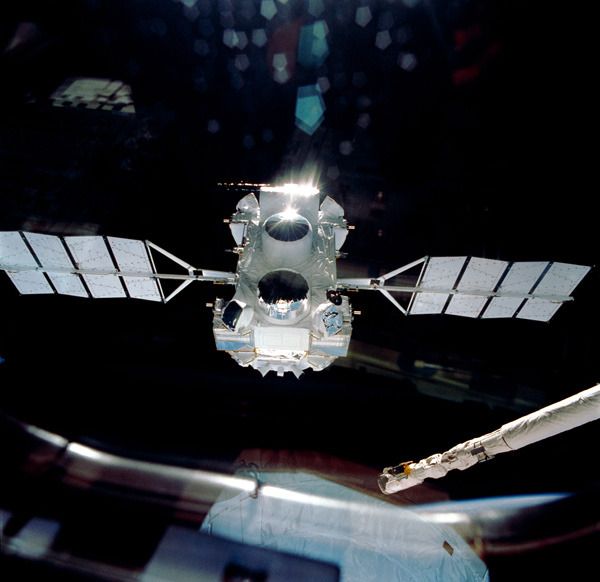 NASA
April 7, 1991, Deployment of Breakthrough Gamma-ray Observatory (Press Release)
Twenty-five years ago, NASA launched the
Compton Gamma Ray Observatory
, an astronomical satellite that transformed our knowledge of the high-energy sky. Over its nine-year lifetime, Compton produced the first-ever all-sky survey in gamma rays, the most energetic and penetrating form of light, discovered hundreds of new sources and unveiled a universe that was unexpectedly dynamic and diverse.
In this view, taken on April 7, 1991, from the aft flight deck window of space shuttle
Atlantis
, the Compton Gamma Ray Observatory is released by the shuttle's remote manipulator system. Visible on the observatory as it drifts away are the four complement instruments: the Energetic Gamma Ray Experiment
(bottom)
; Imaging Compton Telescope
(COMPTEL) (center)
; Oriented Scintillation Spectrometer Experiment
(OSSE) (top)
; and Burst and Transient Source Experiment
(BATSE) (at four corners)
.
Source:
NASA.Gov