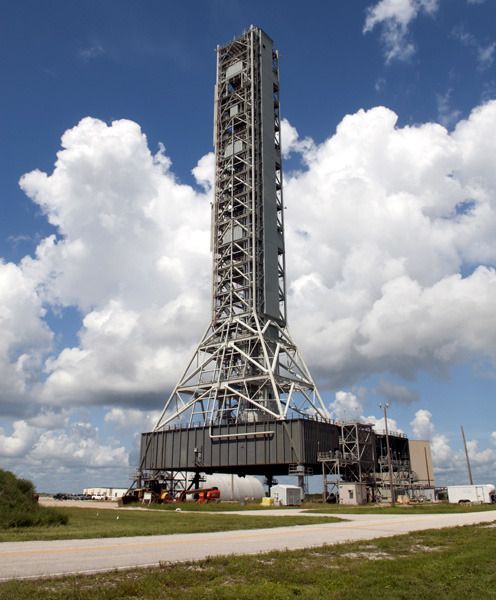 NASA / Cory Huston
Mobile Launcher Mods Will Support NASA's Next-Generation Rocket and Spacecraft (Press Release)
NASA's mobile launcher
(ML)
is shaping up nicely as modifications continue on the ground structure that will launch the agency's
Space Launch System
rocket and
Orion
spacecraft on the journey to Mars and other deep-space destinations.
"We just finished up a major construction phase of the mobile launcher," said Eric Ernst, NASA ML project manager. "We were actually able to accelerate some of the work."
NASA recently selected J.P. Donovan Construction Inc. of Rockledge, Florida, to begin the next phase of work on the 380-foot-tall
(including the base)
, 10.5-million-pound steel structure at NASA's Kennedy Space Center in Florida.
J.P. Donovan Construction will install and integrate ground support equipment
(GSE)
systems onto the mobile launcher to modify the structure with the systems necessary to assemble, process and launch NASA's integrated Space Launch System rocket and Orion spacecraft. The scope of work includes the installation of mechanical, electrical and fluid subsystems that will support the SLS rocket.
According to Ernst, this phase will include the installation of more than 800 mechanical, fluid and electrical panels, about 300,000-plus feet of cabling, and miles of tubing and piping.
"One of our big challenges is that SLS, Orion and GSE systems are all in development concurrently," Ernst said. "Now we are working to develop an install design for the hardware. There are a lot of unique challenges."
Members of the media recently toured the ML and saw first-hand all of the upgrades and modifications that have been completed so far. The ML was originally developed to support
Ares I
. The base and tower structure were modified to accommodate the much larger SLS/Orion configurations. These modifications included structural reinforcement of the base and tower and increased exhaust hole to accommodate the much larger launch vehicle.
"To increase the size of the exhaust hole and strengthen the base, we had demolition of over 750 tons of steel, and fabrication and installation of more than 1,000 tons of new steel," said Mike Taylor, project manager for J.P. Donovan.
A series of lines will connect the ML to various parts of the rocket to provide the necessary power, fuel, and communications until launch. These umbilical lines release at liftoff and then retract to clear the way for the rocket. The base of the ML will contain the tail service mast umbilicals. The tower will contain several umbilicals, including the crew access arm, the Orion service module umbilical, and several umbilicals that will provide power, cryogenics and stability to the SLS rocket.
The ML is planned to be rolled to the Vehicle Assembly Building in early 2017.
Overseeing modification to the ML is one of many ways the Ground Systems Development and Operations Program is helping to prepare Kennedy to process and launch the next-generation vehicles and spacecraft designed to achieve NASA's goals for space exploration. To achieve this transformation, the NASA and contractor workforce is developing the necessary ground systems while refurbishing and upgrading infrastructure and facilities to accommodate government, commercial and other customers' needs.
Source:
NASA.Gov
****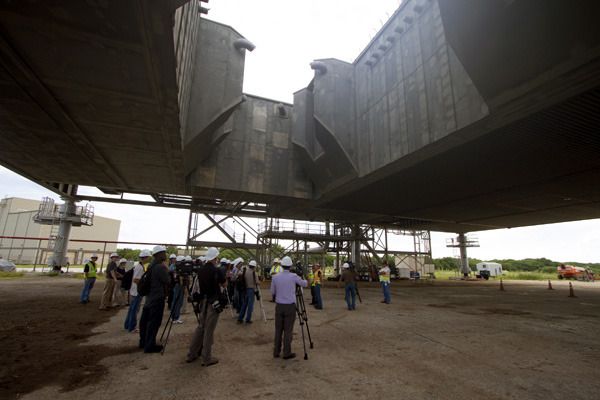 NASA / Cory Huston