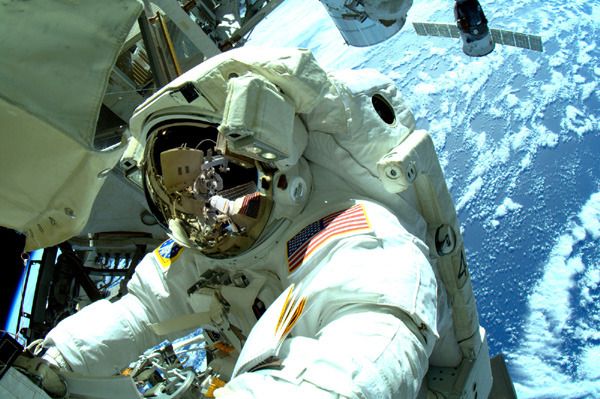 NASA / Terry Virts
Astronauts Complete Series of Three Spacewalks (Press Release)
On Sunday, March 1,
Expedition 42
Flight Engineer Terry Virts and Commander Barry "Butch" Wilmore ventured outside the International Space Station for their third spacewalk in eight days. Virts and Wilmore completed installing 400 feet of cable and several antennas associated with the Common Communications for Visiting Vehicles system known as
C2V2
. Boeing's
Crew Transportation System
(CST)
-100
and the SpaceX
Crew Dragon
will use the system in the coming years to rendezvous with the orbital laboratory and deliver crews to the space station.
Virts
(@AstroTerry)
tweeted this photograph and wrote, "Out on the P3 truss.
#AstroButch
handing me his cable to install on the new antenna.
#spacewalk
"
Source:
NASA.Gov