NASA / Rusty Backer
An Eventful Start to Dragon's Fourth Flight...
At 7:10 AM, Pacific Standard Time
(PST)
today, the
Falcon 9
rocket carrying the
Dragon CRS-2
vehicle lifted off from Cape Canaveral Air Force Station in Florida. The launch and ascent to low-Earth orbit went flawlessly...up until Dragon separated from Falcon 9 and was about to deploy its twin solar arrays. The deployment was put on hold after the spacecraft went into safe mode when low pressure in the capsule's oxidizer tanks was detected by its flight computers. This led to only one of Dragon's four Draco thruster pods being operational
(all four need to be working in order for the craft to dock with the International Space Station, or ISS)
...with SpaceX Mission Control in Hawthorne, California, scrambling to find a way to get the pods up and running again and put the mission back on-track. Eventually, the blockage in the helium pressurization lines leading to the oxidizers was removed, and ground controllers were able to revive all of the thrusters—allowing the Dragon to deploy its solar arrays and then resume its journey to the ISS. However, Dragon will not reach the orbital outpost tomorrow as planned. Instead, it will be berthed at the space station this Sunday, March 3, at 3:01 AM, PST. Dragon is ferrying 2,300 pounds worth of cargo to the laboratory on this mission.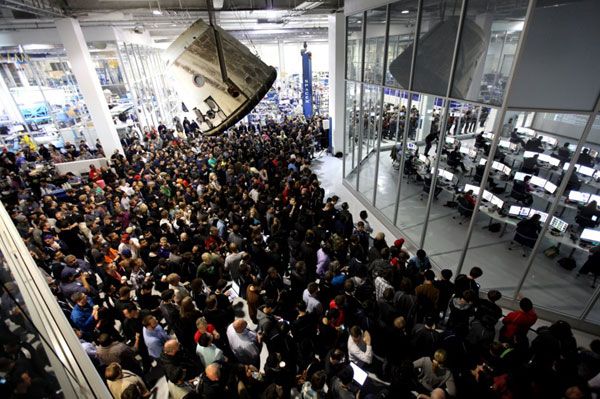 SpaceX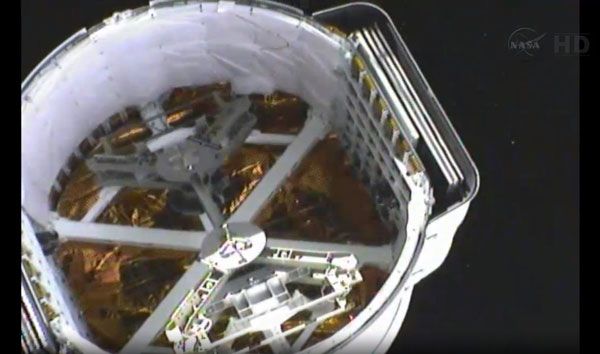 SpaceX / NASA TV