THE 'SHUTTLE SURGE' CONTINUES...
About a quarter before 2 AM, Pacific Standard Time today, space shuttle
Endeavour
arrived at its Kennedy Space Center launch pad, in preparation for its March 10 launch to the International Space Station
(ISS)
. Endeavour will embark on flight
STS-123
, which involves her crew installing the first section of Japan's
Kibo
science laboratory to the orbiting outpost. The main component of Kibo will be launched onboard
Discovery
on
STS-124
, now targeted for liftoff in late May. In regards to other science labs at the ISS,
Atlantis
undocked from the outpost earlier this morning, after her astronauts spent last week installing Europe's
Columbus
module to the station. Atlantis will land on Wednesday—either in Florida or at California's Edwards Air Force Base—to give the U.S. military more time to attempt shooting down an errant spy satellite
(which failed shortly after launch in December of 2006, and is expected to enter Earth's atmosphere sometime next month)
.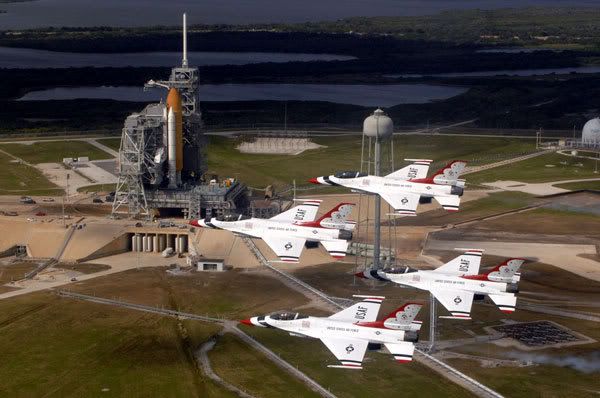 USAF / TSgt. Justin D. Pyle
In commemoration of NASA's 50th anniversary this year, the U.S. Air Force's
Thunderbirds
flew over Endeavour after it arrived at the launch pad. The flyby took place around 7:15 AM, PST today.
NASA - Amanda Diller & Jack Pfaller