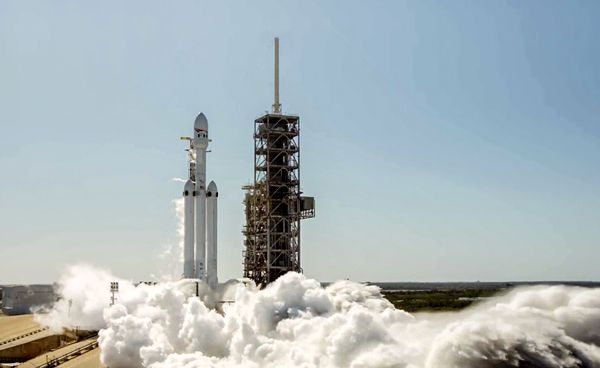 SpaceX
Earlier today,
SpaceX founder Elon Musk posted a tweet
(shown below)
that revealed when his company will attempt a launch of its
Falcon Heavy
rocket, which successfully conducted a
static-fire test
last Wednesday. According to Musk, the Falcon Heavy will lift off from Launch Complex 39A at NASA's Kennedy Space Center in Florida on Tuesday, February 6. According
to other sources,
SpaceX is actually aiming for February 6 or 7 to send its newest rocket on its inaugural flight beyond Earth's atmosphere. The launch window would be between 1:30 to 4:30 PM, EST
(10:30 AM to 1:30 PM, PST)
for both days. I'll be at my laptop watching the SpaceX webcast of the launch on
either
of those dates! This will be the
most powerful rocket
in the world, after all—until
late 2019 or mid-2020,
that is. Have a great weekend!
Aiming for first flight of Falcon Heavy on Feb 6 from Apollo launchpad 39A at Cape Kennedy. Easy viewing from the public causeway.

— Elon Musk (@elonmusk) January 27, 2018