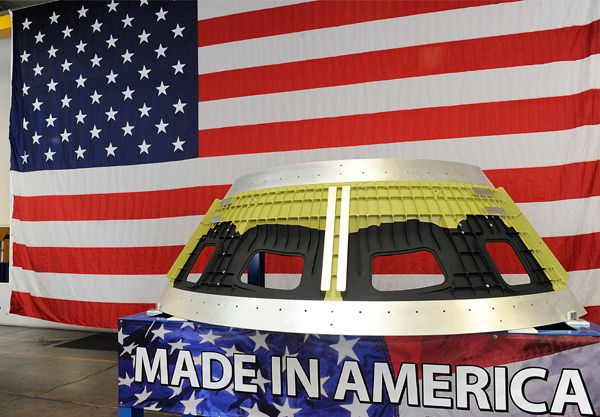 NASA / AMRO Fabricating Corp.
Orion Supplier Readies Shipment of Orion Astronauts' Windows on the Universe (News Release)
When the first crew of astronauts flies aboard the
Orion
spacecraft, they will be able to look through a window and view the Moon and Earth from their deep-space vantage point. The window panel that will provide that view is ready for shipment to NASA. AMRO Fabricating Corp., of South El Monte, California, has completed a section of the Orion pressure vessel, or underlying structure of the spacecraft that will send astronauts farther than humans have ever traveled before on
Exploration Mission-2
(EM-2)
.
Orion's four windows are contained in one of three cone panels that AMRO is manufacturing for NASA and Orion prime contractor, Lockheed Martin. The spacecraft's pressure vessel has seven structural elements, including the three cone panels. AMRO will ship the panel to NASA's Michoud Assembly Facility in New Orleans by the end of August, where it will be outfitted with strain gauges and wiring for monitoring purposes and joined together with other pieces of the pressure vessel scheduled to arrive at Michoud in the coming months.
"Many of our suppliers around the country are already starting to manufacture elements of the Orion for our first mission with astronauts," said Paul Marshall, assistant program manager for Orion. "Their work enables NASA's push to expand our boundaries into space and eventually our voyage to Mars."
The pressure vessel forms the sealed environment inside where astronauts will live and the structure upon which all the other elements of the spacecraft are built and integrated. The components of Orion's pressure vessel are joined using the friction-stir welding process, which bonds the pieces by transforming metals from a solid into a plastic-like state and then forging a bond between the two metal components. Once all pressure vessel elements are welded together, the spacecraft will be sent to Kennedy Space Center in Florida for outfitting, processing and launch.
Other than several small changes to allow for interfaces with crew equipment or mounting of hardware specific to EM-2, the overall structure, manufacturing process and mass of the pressure vessel is the same as it is for the structure that will fly on the first mission of Orion and
SLS
, now that engineers have optimized the design of Orion's structure. Engineers are making progress on the EM-1 spacecraft, currently being assembled at Kennedy ahead of its 2019 launch.
AMRO is a third generation, family owned, small business manufacturer that specializes in building metallic structures for spacecraft and launch vehicles. In addition to its work for Orion, AMRO makes elements of the
Space Launch System
core stage and provided components for the space shuttle. This past February, AMRO successfully graduated from the NASA Mentor-Protégé Program – a program through the Office of Small Business Programs which encourages NASA prime contractors to assist eligible protégés, thereby enhancing the protégés' capabilities to perform on NASA contracts and subcontracts.
"I speak for everyone in the NASA Office of Small Business Programs when I express how proud we are of the tremendous contributions the AMRO Fabricating Corporation is making to the NASA mission," said Glenn Delgado, associate administrator of the Office of Small Business Programs in Washington. "Their growth and achievements are a shining example of what can be accomplished by our protégés. We look forward to AMRO's continued success."
Exploration Mission-2 will be NASA's first mission with crew in a series of missions in the proving ground, an area of space around the Moon where crew can build and test systems needed to prepare for the challenge of missions to Mars. The mission will launch from NASA's Kennedy Space Center in Florida in the early 2020s.
Source:
NASA.Gov