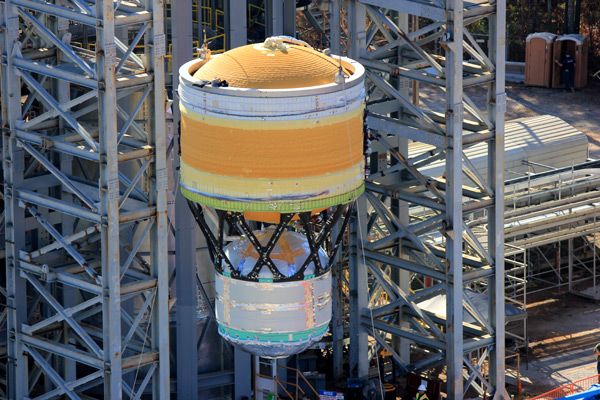 NASA / MSFC / Brian C. Massey
NASA SLS Propulsion System Goes into Marshall Stand Ahead of Big Test Series (News Release - November 17)
NASA engineers installed a test version of a crucial piece of hardware for the
Space Launch System
rocket in a 65-foot-tall test stand Nov. 17 at the agency's Marshall Space Flight Center in Huntsville, Alabama.
SLS
will be the most powerful rocket ever built for human missions to deep space with the
Orion
spacecraft, including the Journey to Mars.
The hardware is a test version of the interim cryogenic propulsion stage
(ICPS)
, which is a liquid oxygen/liquid hydrogen-based system that will give Orion the in-space push needed to fly beyond the Moon before it returns to Earth on the first flight of SLS and Orion in late 2018. The ICPS will be stacked with three other test articles and two simulators that make up the upper portion of the SLS rocket ahead of a rigorous test series in early 2017.
"The installation of the ICPS is another big step in getting ready for the test series, which will ensure that the hardware can endure the incredible stresses of launch," said Steve Creech, deputy manager of the Spacecraft and Payload Integration & Evolution Office at Marshall, which manages the SLS Program for the agency. "In addition to testing, work is underway on flight pieces of the upper part of the rocket, including the ICPS. NASA and our prime contractor teams are working diligently toward mission success for first flight, and this test series also will provide crucial data to support future missions, including the journey to Mars."
The ICPS test article, without the engine, is around 29 feet tall and 16.8 feet in diameter. It is the largest piece of hardware for the test series, and was designed and built by The Boeing Co. in Huntsville and United Launch Alliance of Decatur.
The hardware -- some being almost exact to flight specifications -- will be pushed, pulled and twisted during the tests. The ICPS joins two other pieces of hardware already installed in the stand. The core stage simulator was loaded into the test stand Sept. 21, with the launch vehicle stage adapter
(LVSA)
following on Oct. 12. The core stage simulator is a duplicate of the top of the SLS core stage that is approximately 10 feet tall and 27.5 feet in diameter. It was designed and built at Marshall.
The LVSA connects the SLS core stage and the ICPS. The LVSA test hardware is 26.5 feet tall, with a bottom diameter of 27.5 feet and a top diameter of 16.8 feet. It was designed and built by prime contractor Teledyne Brown Engineering of Huntsville. The other three qualification articles and the Orion simulator will complete the stack later this fall. Approximately 50 test cases are planned for the upcoming series.
The initial SLS configuration will have a minimum 70-metric-ton
(77-ton)
lift capability and be powered by twin solid rocket boosters and four RS-25 engines. The next planned upgrade of SLS will use a more powerful exploration upper stage for more ambitious missions with a 105-metric-ton
(115-ton)
lift capacity.
Source:
NASA.Gov
****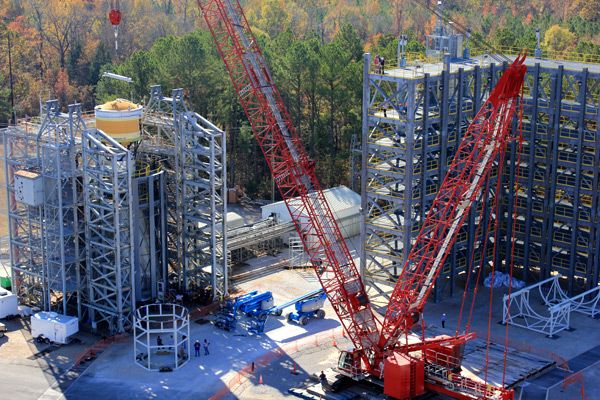 NASA / MSFC / Brian C. Massey