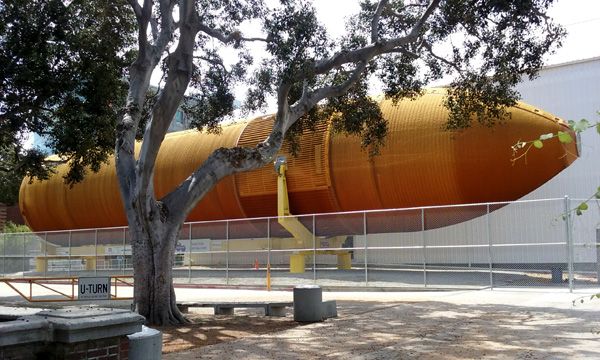 Earlier today,
I drove down to the California Science Center in downtown Los Angeles again to check out
ET-94
after it was placed at the location where it will be for the next two years. The unflown space shuttle fuel tank is now on display outside the Samuel Oschin Pavilion,
Endeavour's
current home. Work will soon begin to refurbish the flight article before it is mated with Endeavour and
her twin Solid Rocket Boosters
in 2018...prior to going on public display at the soon-to-be-built Samuel Oschin Air and Space Center the following year.
After viewing ET-94, I also watched a free screening of the new IMAX documentary film
A Beautiful Planet
, which chronicles life aboard the International Space Station and is narrated by Oscar-winning actress Jennifer Lawrence. It is produced and directed by Toni Meyers...
whose last film
was 2010's
Hubble 3D
. Both are truly amazing documentaries that need to be seen
(Hubble is now available on DVD)
!