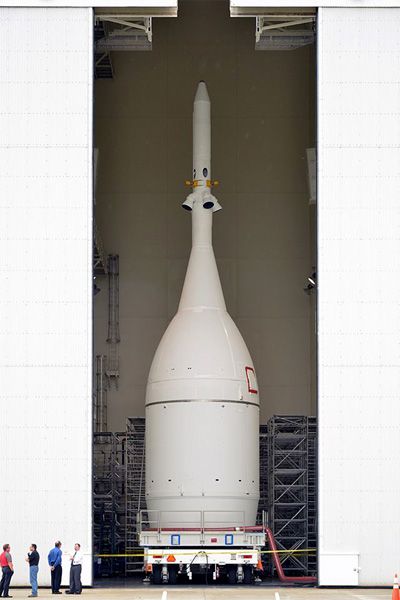 NASA
Orion Ready for Move to Space Launch Complex 37 (Press Release)
NASA's
Orion
spacecraft will move Nov. 11 from the Launch Abort System Facility
(LASF)
at NASA's Kennedy Space Center in Florida, to Space Launch Complex 37 at Cape Canaveral Air Force Station
(CCAFS)
in preparation for its upcoming flight test. The move was postponed 24 hours due to a weather forecast this evening calling for winds and lightning that violate the constraints established for safely moving Orion.
The assembled Orion crew module, service module, launch abort system and adapter that fits the service module to the rocket have remained inside the LASF since Sept. 28 until the scheduled move to the pad.
First motion out of the LASF is scheduled for approximately 8 p.m. EST. Traveling at about 5 mph, the spacecraft will make the trek from Kennedy's Industrial Area north to the Launch Complex 39 area, travel past the Vehicle Assembly Building, and continue to the launch pad at CCAFS. Orion is scheduled to arrive at the pad at about 2 a.m. on Nov. 12.
The Orion spacecraft will be hoisted up for stacking on the United Launch Alliance
Delta IV Heavy
rocket later in the morning after its arrival at the launch pad.
Orion is scheduled to launch Dec. 4. The flight test will send Orion 3,600 miles in altitude from Earth on a two-orbit flight intended to ensure the spacecraft's critical systems are ready for the challenges of deep-space missions.
During the 4.5-hour flight covering a distance of 66,000 miles, Orion will travel farther than any crewed spacecraft has gone in more than 40 years, before returning to Earth at speeds near 20,000 mph and generating temperatures up to 4,000 degrees Fahrenheit.
After Orion splashes down in the Pacific Ocean, NASA and the U.S. Navy will recover the crew module and attempt to retrieve the parachutes and forward bay cover.
Source:
NASA.Gov
****
NASA