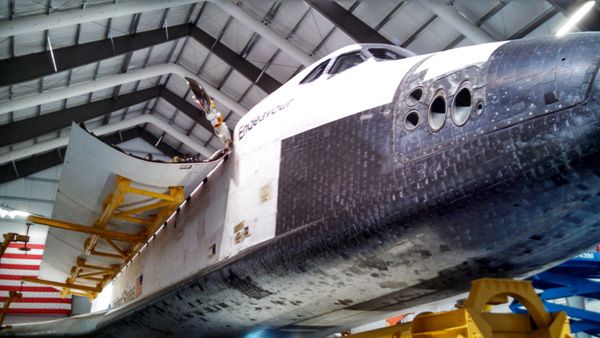 Yesterday morning,
I had the privilege of attending a social media event at Los Angeles' California Science Center
(CSC)
that involved watching previously-flown hardware being installed within the cargo bay of space shuttle
Endeavour
. Known as
Go for Payload
, this event is one of three that will chronicle Endeavour's progress as she gets prepped for her permanent home at the Samuel Oschin Air and Space Center...which begins construction next year and is slated to open in 2018. Go for Payload involved a
SPACEHAB
module—which launched into space on a total of eight shuttle flights—getting placed inside Endeavour's bay. The occasion was marked by a speech given by retired astronaut Barbara Morgan, who was Christa McAuliffe's back-up for the ill-fated
Challenger
flight in January of 1986, and flew aboard Endeavour on
STS-118
in 2007. To honor Morgan's involvement in this space shuttle mission, every component
(all of them, except SPACEHAB, are replicas)
that will be placed inside Endeavour's bay will be configured to look the way the actual ones did during the 2007 flight.
The next phase of CSC's plan for Endeavour is
Go for Stack
...which will take place in 2017 and involve the orbiter being mated to her twin solid rocket boosters
(which are currently in storage at Edwards Air Force Base 100 miles north of Los Angeles)
and an external fuel tank replica prior to getting positioned inside the Air and Space Center
(which would still be under construction at that time)
. The third and final phase of this project is 2018's
Go for Launch
—which involves opening one of Endeavour's payload bay doors so museum visitors can see the cargo inside the vehicle just as she stands in vertical position, like she did for all 25 launches during her career from 1992 to 2011. Hopefully I'll be on-hand to witness these next two exciting milestones!