Virgin Galactic
Yesterday,
the
VSS Enterprise
(a.k.a. SpaceShipTwo, or SS2)
once again rocketed to new heights as her RocketMotorTwo engine brought the ship to an altitude of 71,000 feet above California's Mojave Desert. Along with setting a new altitude record for SS2
(she previously reached 69,000 feet last September)
, RM2 also set a new top speed for the craft as the Enterprise cruised at Mach 1.4 on Friday. While Virgin Galactic is aiming for the end of this year to begin sending paying passengers more than 60 miles above the Earth aboard SS2, it has not yet been disclosed as to when Enterprise will finally aim for the threshold of space during its flight test program. Cross our fingers that it will be soon.
Virgin Galactic
Virgin Galactic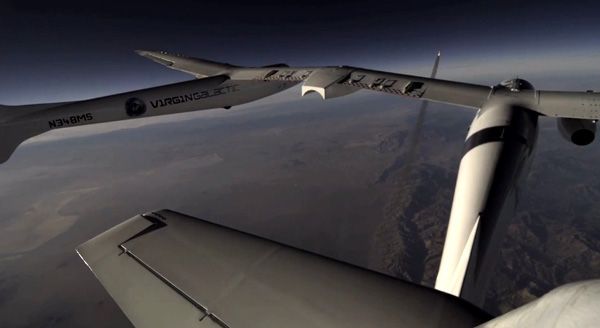 Virgin Galactic
Virgin Galactic
Virgin Galactic
Virgin Galactic
Virgin Galactic