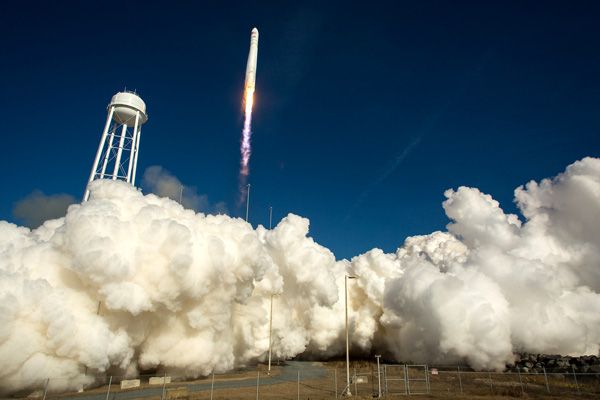 NASA / Bill Ingalls
Orbital-1 Space Station Resupply Mission Launches From NASA's Wallops Flight Facility (Press Release)
Orbital Sciences Corp. launched its
Cygnus
cargo spacecraft aboard its
Antares
rocket at 1:07 p.m. EST Thursday, Jan. 9, 2014, from the Mid-Atlantic Regional Spaceport Pad 0A at NASA's Wallops Flight Facility in Virginia, beginning the
Orbital-1
cargo resupply mission to the International Space Station. The Cygnus spacecraft is now traveling 17,500 mph in Earth's orbit to rendezvous with the space station on Sunday, Jan. 12.
Over the next two and a half days, Cygnus will perform a series of engine firings to put it on track for a rendezvous with the station. When the vehicle reaches the capture point about 30 feet from the complex,
Expedition 38
Flight Engineers Mike Hopkins and Koichi Wakata will use
Canadarm2
, the station's 57-foot robotic arm, to reach out and grapple Cygnus at 6:02 a.m. The crew then will use the robotic arm to guide Cygnus to its berthing port on the Earth-facing side of the
Harmony
node for installation beginning around 6:20 a.m. NASA television coverage of the rendezvous and berthing begins at 5 a.m. Sunday, Jan. 12, followed at 7 a.m. with coverage of the installation.
For its first official commercial resupply mission, designated Orbital-1, Cygnus is delivering 2,780 pounds of supplies to the space station, including vital science experiments for the Expedition 38 crew members aboard the orbiting laboratory. Orbital Sciences successfully proved the capability of the Cygnus spacecraft during its first and only demonstration flight to the station back in September 2013.
Source:
NASA.Gov
****
NASA / Bill Ingalls